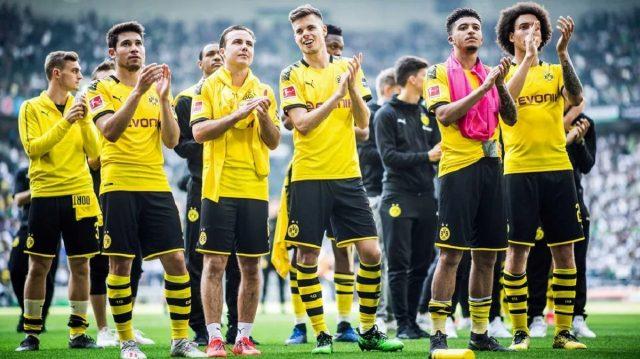 Formation: 3-4-3
Goalkeeper: Roman Bürki: The Swiss goalkeeper has started 22 of the 25 Bundesliga games that Dortmund have played so far. He has kept 8 clean sheets, which is the joint second highest in the league so far.
Right Centre Back: Lukasz Piszczek: The captain has been instrumental to the club's defensive stability this season. Although he doesn't add much exquisiteness to the style of play, he will give you at least a 7/10 every game. This could very well be the reason the club might reward him with a contract extension.
Central Centre Back: Manuel Akanji: Ever since the 4-3 loss to Bayer Leverkusen, Akanji has not started for Dortmund in the Bundesliga. However, owing to Dan-Axel Zagadou's knee injury, Akanji is likely to return to the lineup. He'll be hoping to impress so he can keep his place in the lineup for the remaining games of the season.
Left Centre Back: Mats Hummels: In the first season of his second stint of the club, Hummels has started every single Bundesliga game, showing just how vital Favre considers him to be for the success of the team. His defensive intelligence should help Dortmund cope with Schalke's forward runs, as they try to penetrate the back-line.
Right Wingback/ Axial Midfielder: Achraf Hakimi: The young Moroccan star has had his breakthrough season, racking up 10 assists already. Dortmund will look to maximise his use if they aren't able to extend his loan, and he will be a key asset to continue their fight for the title. Hakimi's pace will be significant if Dortmund are to provide an added dimension to their game against Schalke. He has the highest number of sprints in the league, proving that he tirelessly runs up and down the wing.
Right Central Midfielder: Thomas Delaney: Delaney has not been given much of an opportunity to shine this season, primarily because of his knee and ankle injuries. However, now that Witsel and Can are likely to miss the game against Schalke, he should grab this opportunity with two hands. Delaney is likely to be the more defensive of the central midfield duo and will be expected to stay back more than his partner.
Left Central Midfielder: Julian Brandt: Brandt has impressed on various occasions this season, and in order for him to showcase his strengths it is essential that the tactical system used gives him the freedom to drive forward from midfield. His ability to navigate through tight space is regarded as one of the best, as he helps the team switch from defence to attack in the blink of an eye.
Left Wingback/ Axial Midfielder: Raphaël Guerreiro: Although he may not get the same accolades which his teammate on the other wing has received, Guerreiro's importance has not escaped the eyes of his manager. His tactical flexibility and technical ability have often been compared to when Gareth Bale first started off at left back. Guerreiro's technical ability might be key to breaking down Schalke's defence.
Right Winger/ Forward: Jadon Sancho:  Sancho has been Dortmund's player of the season so far, and he will hope to continue his brilliant run of form that he has maintained throughout the season. He is Dortmund's most involved player in the creation and scoring of goals, with 15 assists and 14 goals. What better way to impress prospective suitors than an incredible performance in Germany's biggest derby?
Striker: Erling Haaland: This Norwegian "baby faced assassin" made an immediate impact since he joined the club in January. He has scored 9 goals in the 512 minutes he is played, which is rather impressive for a 19-year-old newcomer to the league. However, in his last two appearances in the Bundesliga, he hasn't been able to score, and he'll be itching to change that.
Left Winger/ Forward: Thorgan Hazard: Thorgan is slowly but surely being recognised more in the world of football, and fans don't know him only for being Eden Hazard's younger brother anymore. With Marco Reus ruled out for the game, Thorgan is sure to start the game. His ability to counter-attack is second to none, and that could well be the reason for his highly commendable stats this season.