Lineups
Borussia Dortmund: Bürki, Piszczek, Hummels, Akanji, Hakimi (Morey 87'), Guerreiro (Schmelzer 80'), Can (Balerdi 87'), Delaney (Witsel 68'), Brandt (Reyna 80'), Hazard, Sancho
Paderborn: Zingerle, Drager, Strohdiek, Hunemeier, Collins, Vasiliadis (Sabiri 83'), Schonlau, Antwi-Adjei (Jastrzembski 83'), Srbeny (Michel 66'), Holtmann (Proger 74'), Mamba (Zolinski 66')
After a relatively quiet first half, Dortmund switched gears and netted 6 goals in the second 45 minutes. Jadon Sancho ended the game with a hat-trick, showing how deadly he can be when back to full fitness.
The first twenty minutes of the game were incredibly hard-fought, and Paderborn's energy and hustle did not make them look any lesser than Borussia Dortmund. In fact, for all the possession that Dortmund had, we could not make any real inroads into the attacking third.
Instead, it was Paderborn's winger Antwi-Adjei who had three half-chances. None of his shots were on target, yet they were a reminder to Dortmund of the counter-attacking threat that Paderborn have in their locker.
Through the next 25 minutes of the first half, Dortmund displayed their dominance, as a few chances fell to Thorgan Hazard, Raphael Guerreiro, and Julian Brandt respectively. Hazard's shot was well saved by Zingerle from a tight angle, Guerreiro's shot was deflected behind for a corner, and Brandt who had more time on the ball than the other two skied his shot over the crossbar.
Dortmund took their performance to another level in the second half, as we made chance after chance after chance. We took the lead in the 54th minute through Thorgan Hazard after some brilliant build-up play by Emre Can. The German's cross stung the hands of Paderborn's keeper, who fumbled the ball straight into the path of Hazard, who passed it into the net.
Dortmund (-325) Finally Take The Lead😎

Thorgan Hazard puts BVB ahead in the 2nd Half.pic.twitter.com/SlvWs9Ofvm

— PointsBet Sportsbook (@PointsBetUSA) May 31, 2020
Three minutes later, Sancho doubled their lead with another simple finish handed to him by Julian Brandt's pass. Just as Dortmund seemed to have the game under control, playing some wonderful free-flowing football, though conceded a penalty when Emre Can was penalised for a handball inside the box. Hunemeier, Paderborn's Captain smashed the ball into the side netting, giving Bürki no chance to even get his hands on the ball.
The converted spot-kick gave Paderborn hopes for a comeback, however, Sancho gave them no respite as he restored the two-goal lead which Dortmund had. Sancho was standing in the middle of the box, and when he received the ball from Hazard, he took a lovely touch and followed it up with an even better finish.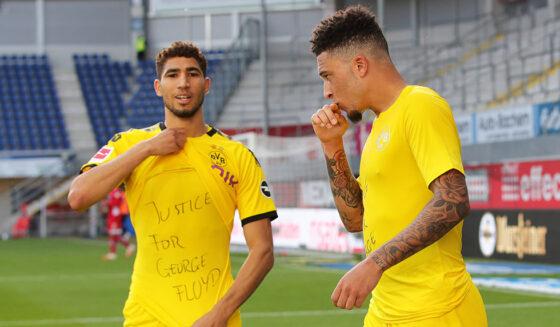 Soon enough, Achraf Hakimi scored his third goal in four starts, with a beautiful grounded finish which evaded the keeper and nestled into the back of the net. With the game all but sealed, Lucien Favre decided to throw two youngsters into the mix, Leonardo Balerdi and Mateu Morey. The pair were given only 5 minutes, yet Morey played an integral part in both of Dortmund's last goals.
Marcel Schmelzer, a Borussia Dortmund veteran, made it 5-1 as he was in the right place at the right time to receive Axel Witsel's low cross and calmly finish. Jadon Sancho sealed his hat-trick in injury time after an exquisite through ball from Morey, which Sancho placed into the corner. The goal marked Sancho's 17th of the season and the debutant Morey's first-ever assist in the Bundesliga.
A hat-trick for Jadon Sancho on his first start after the Bundesliga's return.

He now has 33 goal involvements in 22 Bundesliga starts this season. Incredible numbers. pic.twitter.com/sSQSu71Goq

— LDN (@LDNFootbalI) May 31, 2020
Dortmund now sit 4 points away from Borussia Monchengladbach and Bayer Leverkusen, as we look to seal their spot in the UEFA Champions League for next season.
Player Ratings:
Roman Bürki: 7/10: Didn't really have much to do all day, and he couldn't have done better to save the penalty from Hunemeier.
Lukasz Piszczek: 7/10: A solid and standard performance from him, as he continues to prove that age is just a number.
Mats Hummels: 8/10: He was a rock in defence today, barely letting anyone through.
Manuel Akanji: 6.5/10: After a few clumsy mistakes in the first half, the Swiss International regained his composure and put in a solid performance.
Thomas Delaney: 7/10: He provided the perfect balance between forward-thinking and defensive mindfulness, as he continues to impress after his recovery from injury.
Emre Can: 7/10: It took him a while to get going, but once he did, he added a different dimension to Dortmund's midfield. He was unlucky when the penalty decision went against him.
Achraf Hakimi: 8/10: Hakimi's bursts in the second half along with his goal compensate for his lack of final product in the first half.
Raphael Guerreiro: 6.5/10: Did nothing terribly wrong, nor anything amazingly right.
Julian Brandt: 7/10: After his dismal display against Bayern Munich, he will certainly be satisfied with his performance from today. Had a couple of skilled touches and even got an assist.
Thorgan Hazard: 8/10: His pace constantly worried Paderborn's back-line, and he even scored the much-needed opening goal.
Jadon Sancho: 9/10: Arguably one of his best performances in a Dortmund shirt, reminding us all of how terrifying he can be when fully fit. He notched up a brilliant hat-trick with clinical finishing.
Substitutes: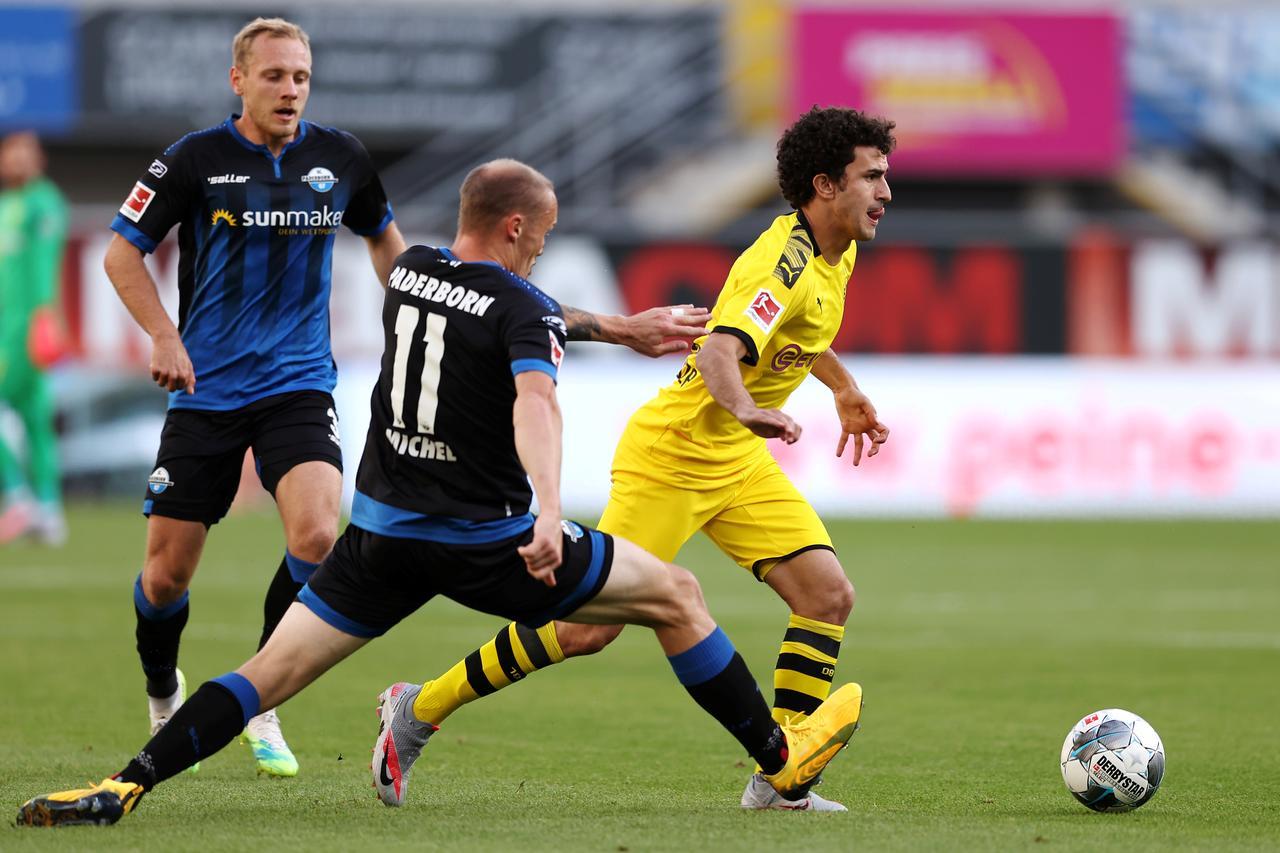 Mateu Morey: 8/10: Although he was given only 5 minutes to shine on his debut, he took his chance well, and managed to get an assist for the final ball.
Marcel Schmelzer: 8/10: The veteran got on the scoresheet after quite a long goal drought, so he'll be pleased with today.
Axel Witsel: 7/10: Still getting back to full fitness, but managed an assist.
Giovanni Reyna: 7/10: Had a couple of bright moments on the field.
Leonardo Balerdi: NA: Couldn't make an impact in the few minutes he played.