Borussia Dortmund manager Lucien Favre has revealed there are no guarantees that both Jadon Sancho and Achraf Hakimi would be with the team next season.
Jadon Sancho, 20, has constantly been linked with a move to the Premier League with Chelsea and Manchester United said to be keen on signing him.
Achraf Hakimi on the other hand, is on the brink of ending his two-year loan spell at the Signal Iduna Park, and despite Dortmund's desire to keep him beyond this season, the player's agent has said he would head back to Real Madrid.
Even with the possibility of financial setback after the coronavirus pandemic, it remains unclear whether the club will be able to resist offers for the 20-year-old while also convincing Madrid to allow the Morocco international to stay with them for another year.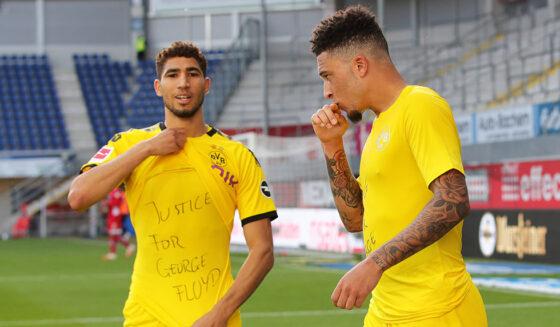 Which ever case that may come, Favre is well prepared for the departure of both players, though he remains hopeful of having them for the 2020/21 season.
"We'll see after the season," he said on Monday. "Of course, players will leave. We hope the players will stay, but it is possible that players will leave. You have already mentioned two [Hakimi and Sancho] that we don't definitely know about.
"Of course, they could stay with us, which would be very good for me. But we'll see what we'll do, whether it's in defence, midfield or attack."
Dortmund go into the game against Mainz on Wednesday knowing that there is nothing at stake, with Bayern Munich set to win the Bundesliga title.
But Favre believes things could have turned out differently had Dortmund been award a penalty in the game against Bayern [losing 0-1] after Jerome Boateng's arm came into contact with the ball.
"I am very happy for my colleague at Bayern," he said. "He is doing a very good job. I can only congratulate him. But I still can't forget our game against Bayern.
"It was a clear penalty in the 60th minute [when Erling Haaland's shot hit Boateng's arm]. And everything would have been open after that. That would have changed everything. We were close. But in the end, we have to admit that Bayern is clearly the best team."