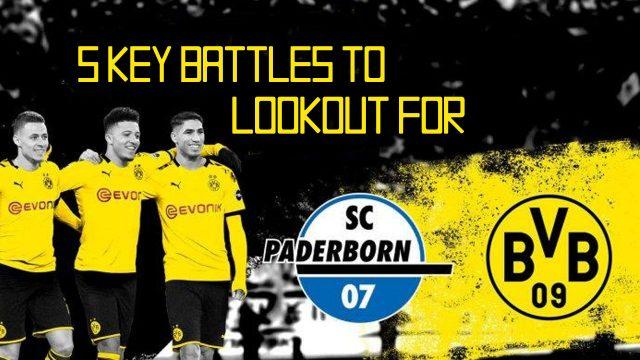 Mats Hummels vs Streli Mamba:

In the reverse fixture played at the Signal Iduna Park, it was Mamba's first-half brace that shocked Dortmund. Although Dortmund could level the game, Mamba's pace and composure in front of goal constantly threatened them.
Mamba plays a key role in Paderborn's counter-attacking style of play and will be crucial if Paderborn are looking to take home some points with them. Mats Hummels' defensive and tactical awareness will be pivotal in Dortmund's response to Paderborn's attacking tactics. In order to negate Mamba's impact on the game, Hummels will have to lead his defence vocally and through his actions.
Achraf Hakimi vs Gerrit Holtmann:

Hakimi had a disappointing game against Bayern Munich and will look to redeem himself by getting back to his best against Paderborn. As a right wingback, he will come up against Gerrit Holtmann, Paderborn's quickest player on the pitch.
To watch the quickest players on the field come up against each other will be intriguing to watch. It was Holtmann's pace and brilliant dribbling which helped him extend Paderborn's lead to 3-0 in the reverse fixture. Hakimi will have to keep his eye out for Holtmann's instinctive runs forward, whereas Holtmann will have to track back to support his left back as they attempt to block Dortmund's dreaded right wing.
Jadon Sancho vs Jamilu Collins:

The young English star is set to make his first start since the resumption of the league and will come up against one of Paderborn's best players this season, Jamilu Collins.
Collins is a Nigerian left-back who has impressed spectators this season. He has won the sixth most duels in the Bundesliga, meaning he will be a tough opponent for Sancho to crack. Sancho will be looking to extend his tally mark for goals and assists this season, however, he should not take his battle against Collins lightly.
Thomas Delaney vs Sebastian Vasiliadis: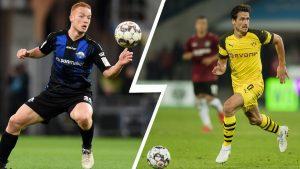 Ever since his recovery from his knee injury, Thomas Delaney has been on fire. His willingness to fight for every 50-50 in midfield adds a lot more of stability to Dortmund's spine. His primary job will be to negate the effect Paderborn's young German midfielder, Sebastian Vasiliadis, has on the game.
Vasiliadis' energy and youthful exuberance will prove to be a challenge for the 30-year-old Delaney to cope with. Vasiliadis has covered over 312 kilometres in the Bundesliga so far, the highest among the Paderborn team, and the 5th highest throughout the league. Delaney's rough and tough nature will be the key to keep Vasiliadis away from the ball.
Julian Brandt vs Sebastian Schonlau:

Julian Brandt had one of his worst games in a black and yellow jersey when Dortmund lost 1-0 to Bayern Munich in their last game. Brandt will look to put this performance behind him so he can get back to his former self.
Sebastian Schonlau, on the other hand, has been in fine form for the past three games as the defence has conceded only one goal in the last three games. Schonlau was given the highest rating by Whoscored for Paderborn's recent 0-0 draw against Augsburg.