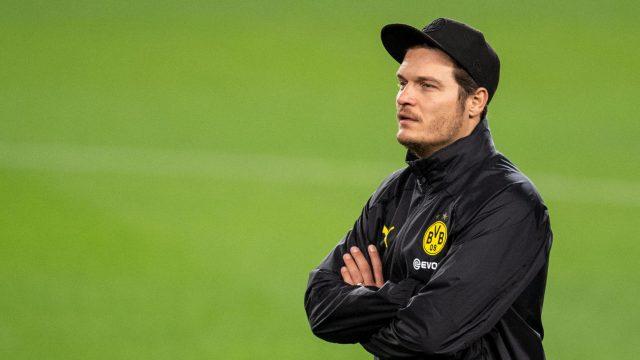 Following the news that Borussia Dortmund parted ways with the now-former head coach, Lucien Favre, they announced that Edin Terzic will take over as interim manager until the end of the 2020/21 season.
Who is he?
Edin Terzic is a German-born football coach, who acted as the assistant coach for Borussia Dortmund until Lucien Favre's release. Terzic never made it to the top leagues as a footballer, however, his coaching expertise has seen him rise through the ranks. The 38-year-old is also a student of sports science.
What is his past coaching experience?
Terzic's experience with coaching started during Jurgen Klopp's reign at Dortmund when he was used as a scout and a coach for the youth team. When Klopp parted ways with Dortmund, Terzic was no longer a part of the set-up either.
Instead, he became Slaven Bilic's assistant coach at Besiktas, between 2013-2015 and later followed him to England to be West Ham United's assistant coach between 2015-2017.
It was only in 2018 that Borussia Dortmund and Terzic re-united, following the appointment of Lucien Favre as head coach. He and Manfred Stefes (now-sacked) were assistants to Favre until the recent 5-1 loss to VfB Stuttgart.
What is his style of play?
Terzic is known for his affiliation to "heavy-metal football", as termed by Jurgen Klopp. It involves intensive counter-pressing and reducing passing options of the opponents.
Who will support him until the end of the season?
A statement from the club's website states that Terzic will be supported by U17 coach Sebastian Geppert, 36, and talent trainer Otto Addo, 45.
Will he be in charge for Dortmund's game against Werder Bremen?
Yes, Terzic will be in charge for Dortmund's visit to the Weserstadion tonight. He called for a change in the team's performance immediately. He said, "We want to show a reaction in Bremen, be successful in our three away games up until Christmas and get close to our maximum. That wasn't Borussia Dortmund on Saturday."
What was his reaction to being hired as Dortmund's interim manager?
The opportunity to manage the side he supported as a child gave Terzic immense pride.
He said, "It's an unbelievable situation. Most people know that I come from the region. I was born 30 kilometres from here, and I was in the stadium for the first time as a nine-year-old. After that, it was clear which team my heart was beating for. But despite that, I never dared dream that I would find myself in such a position at the club."