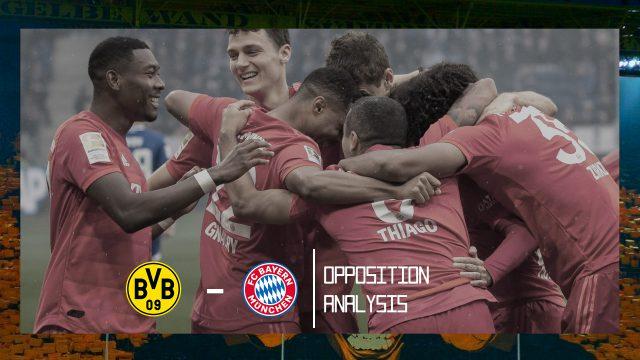 Borussia Dortmund vs Bayern Munich is easily the most awaited fixture in the Bundesliga's year-long season. This year's anticipation for the game has crossed all boundaries possible. With Dortmund only 4 points behind Bayern in the table, this game could very well make or break their title hopes.
To see what Dortmund come up against it is important to understand the strengths and weaknesses of the Bayern Munich team.
Opposition Analysis
Recent form:
Bayern Munich have been on a roll in 2020. They have won nine and drawn one of the ten games they have played this calendar year, in the Bundesliga. In their most recent game against Eintracht Frankfurt, they won 5-2.
Injury News:
Two of Bayern Munich's star players are likely to miss the tie against Dortmund. Their midfield maestro, Thiago Alacantara, was ruled out for the Frankfurt owing to an adductor injury, which means he could miss the Der Klassiker.
To make things worse for Bayern Munich, Serge Gnabry, their pacey winger could miss the game too. Gnabry missed most of Sunday's training to prepare for the game against Dortmund. He appeared only for 26 minutes against Frankfurt, which means he hasn't reached full fitness.
In defence, initial scares of Jerome Boateng's injury have disappeared, after Bayern's manager Hans-Dieter Flick said, "He had a bit of problems, but I don't think it's so bad that he'll miss the game. I think that it'll be fine by Tuesday. Hence the back line will stay the same for the duel with BVB."
Strengths:
Impressive Full-back duo: Bayern Munich's fullbacks are Benjamin Pavard and Alphonso Davies, who play on the right and left, respectively. They have been formidable this season, and they are an integral part of the best defence in the league. Pavard's defensive intelligence complements Davies' adventurous attacking runs. Pavard is incredible in anticipating forward passes by opposition players and is remarkably calm in possession with an exquisite range of passing which puts him in the upper echelon of young defenders.

Alphonso Davies, on the other hand, uses his strongest attribute, i.e., his pace while he bombs forward and tracks back. He often gets the better of slower players on the wing, so it should be interesting to see how he plays against Achraf Hakimi.
In-form Lewandowski: Robert Lewandowski has been on fire this season, and he is the top scorer in the Bundesliga so for with 27 goals in the 25 games he has played this season. This is astonishing even by his standards, as averaging 1.08 goals a game is no mean feat. Lewandowski's age hasn't slowed him down, as his finishing and movement is the best it has ever been. The 31-year-old has scored in both games since the resumption of the league, and his form will concern Dortmund's back four and goalkeeper.
Weaknesses:
Set-piece Defending: Both the goals that Bayern Munich conceded against Frankfurt on Saturday were from corners. Dortmund should aim to exploit this, as they have multiple players who pose a threat in set-pieces. Mats Hummels, Erling Haaland, Manuel Akanji, Thomas Delaney, and Emre Can will be itching to get on the end of a freekick or corner.
Lack of Intensity: One thing that we have noticed from Bayern Munich is their lack of intensity and drive in their play. Although their midfielders are brilliant technicians, they do not have the legs to outrun the oppositions. Dortmund's forwards like Sancho and Brandt are extremely quick in their movement and it will be interesting to see if Bayern can cope with the same.