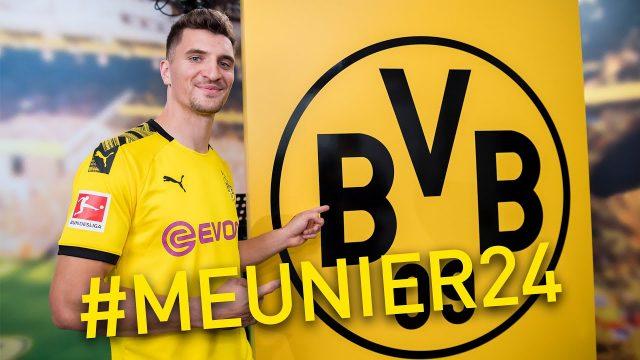 Borussia Dortmund's most recent signing, Thomas Meunier, has expressed his displeasure at the way his former club, PSG, treated him when his contract was nearing expiry. Meunier joined Dortmund on a free transfer after his contract expired at PSG.
The Belgian spent 4 years at the French side, making 128 appearances for the club, scoring 13 times and assisting 28 goals. He won 11 trophies during his time at the club, including 3 Ligue 1 titles.
However, his time at the club was not as sweet as it appears on paper. In a recent interview with DPA International, revealed the ugly side of his time at the club. The revelations made are things you would not expect and are naturally kept behind closed doors by the club.
Meunier has taken fire at PSG's Sporting Director, Leonardo, who apparently attempted to block the Belgian's move to Borussia Dortmund. Meunier said, "To put it bluntly: Leonardo, the sports director of PSG, never attempted an agreement with BVB, let alone with me. He wanted me to be practically free for PSG casserole."
These are serious allegations, and they didn't stop there. He added, "In writing, he (Leonardo,) Informed me via lawyer at the end of June that I was no longer welcome at PSG. Instead, I was now told to stay away from the club premises until the end of my contract. I also replied to this by lawyer's letter that I had the right to exercise after a four-month compulsory break from competition; more precisely: I asked to be allowed to train at times that I couldn't disturb."