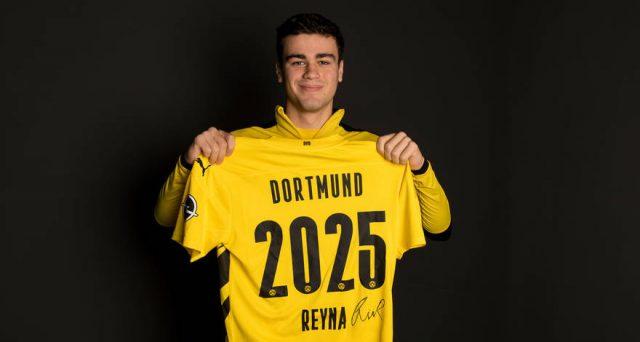 American superstar, Giovanni Reyna, has extended his contract at Borussia Dortmund until 2025! Reyna, who recently made his debut for the United States of America Men's soccer team, is only 18-years-old.
On signing his contract, Reyna said, "BVB are a big club that can challenge for titles and are in all the important competitions. Young players in particular have the chance to develop here. I have already learned a lot in Dortmund and I want to learn a lot more in the future. I look forward to being with BVB in the long term."
Reyna started playing for the Dortmund senior team in January and has scored twice and secured 5 assists in his 22 Bundesliga appearances.
Michael Zorc was quite ecstatic about Reyna extending his contract. He said, "Gio's development in recent months has been incredible. He will definitely be an important part of Borussia Dortmund's sporting future. I am personally very pleased that he has decided to extend his contract with BVB in the long term with complete conviction."
When questioned about whether there was a release clause in Reyna's contract, Zorc declined to answer.
Manager, Lucien Favre, expressed his thoughts too. He said, "That's a great thing for Dortmund. He's got a contract until 2025. It's very good to plan with him. He's already a very, very good player with a lot of potential at 17. If he continues like this, he'll be in."